Main Course
Provided by:
Florida Tomato Committee
Baked Fresh Tomato, Ham and Swiss Filled Rolls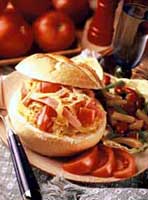 2 large (1 pound) fresh Florida tomatoes
6 ounces sliced ham, cut in strips (about 1-1/2 cups)
6 ounces Swiss cheese, shredded (1-1/2 cups)
3 tablespoons creamy mustard blend
1 tablespoon prepared white horseradish
4 large hard round (Kaiser) rolls, cut in halves
Use tomatoes held at room temperature until fully ripe. Core tomatoes; cut in large chunks; set aside. Preheat oven to 400F. In a medium bowl combine ham, cheese, mustard blend and horseradish. Gently stir in tomatoes. Remove the inside from the bottom portion of each roll, leaving ½ to ¾-inch thick shells. Place on a baking sheet. Fill each shell with about 1 cup of the tomato mixture; top with upper portion of roll. Bake until heated through and cheese starts to melt, about 15 minutes.
YIELD: 4 portions
Calories 27.55 , Protein 1.02 G, Carbohydrates 6.14 g, Fiber 1.45 g, Calories From Fat 10, Total Fat 10g, Cholesterol 0, Sodium 7.93 mg